How to Restore Formatted Drive
Restore your formatted drive in just three simple steps - Step 1: Download the trial version of Recover Digital Photos Software on your system, and launch it. Step 2: Select the formatted drive and click Scan button, upon which the software scans the drive and recovers data within few minutes. Step 3: Preview the recoverd files, and then purchase the licensed edition and save the recovered files at your desired location. Download the software now for free!!!
A hard drive of the computer is used to store data for later use whenever a user needs, this hard drive is broken into smaller parts, called partition to place files or folders in a much more systematic way. Sometimes by mistake user may format the wrong drive, formatting of drive results in a data loss, formatting of drive may be an accidental but data stored on it surely lost after the process of formatting. Have you formatted the wrong drive which contained your important folders and files stored on it? Don't worry these lost files and folders can be recovered using a genuine recovery application which is capable to recover data loss in such a scenario. This tool is designed with the capability to recover data from formatted disk using special algorithms which scans and read data from the formatted drive in order to recover it.
Mistakenly formatted the storage drive
There are various possible ways which lead to formatted data loss, like the accidental format of logical drive erases all data on it, and if you don't have taken backup of data stored on the disk then you will end up in a data loss situation. Sometimes formatting of the logical disk becomes mandatory to get rid of some errors which may include heavy virus attacks, or effect of malware to the disk while formatting some important data may be erased unknowingly. System crash and installation of new OS also could be a possible way of data loss from HDD. In addition, you can use this powerful software to get back Panasonic Lumix deleted photos due to accidental deletion, severe virus attacks, etc with ease. For more information, visit here https://www.recoverdigitalphotos.com/panasonic-lumix.html.
You may also come across scenarios where you to try to access partition stored on the HDD of the computer but each time you try to open it, an error message, showing that hard drive partition is corrupt. Now to get rid of this situation the only possible solution is formatting the hard drive partition containing related files such as photos. And if you attempt that, it will erase all related data present on it. This type of situation generally causes frustration for users. In such scenario retrieval software may come in handy to deal the situation smartly. For the above-mentioned scenario use of Recover Digital Photos is fruitful which has the capability to recover lost photos.
Recovery of data loss due to formatting is possible because files and folders are not wiped from the storage device completely. Instead, entry from the file system is deleted and data is still residing there. As soon as you come to know that your files are deleted or missing because of any possible data loss reasons, don't store any new data on your HDD because this might reduce the chances of recovery as overwrite of data may occur. Using the data recovery software like recover formatted drive user can easily get lost data back in a fraction of seconds. You can preview a list of found files and folders and select according to file extension. It supports Windows XP, Windows Vista; Windows 7, Windows 8, Windows 10 and recovered content can be saved at any desired location directly accessible to local host.
Note: If you have deleted or lost pictures from digital camera, then also you can employ this software. To recover images from the Olympus digital camera, follow this link: https://www.recoverdigitalphotos.com/olympus-digital-camera.html.
How to Recover Formatted Drive?
Step 1: Download and install the software on your computer. After the software is launched, select "Recover Drives" option from the main screen.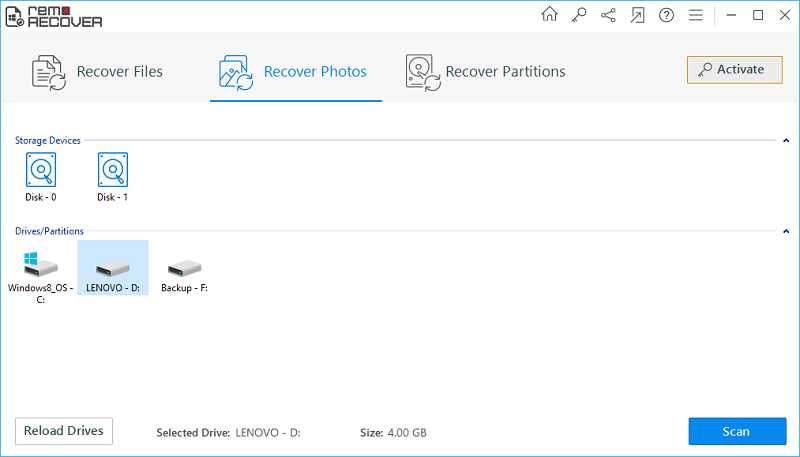 Step 2: Select "Formatted/Reformatted Recovery" from the window to restore data from the formatted partition. Now, select the logical drive to start the data recovery process.
Step 3: Once the data recovery process is complete, "View the Files Recovered" from the formatted drive.