Photo Recovery from Memory Chip
Digital Photo Recovery Software is available for free download now. Download now and try it to recover deleted or lost photos from the memory chip. Connect the memory chip to your system and launch the software. Then, select the memory chip and click Scan option. The software scans the chip and recovers all the images in no time. At last, it offers free preview of the recovered image files before saving. Download and try now!!!
Memory chips also called memory cards are very common and convenient way to store and transfer data these days. They are used in almost all portable digital devices like cameras, iPod, mobile phones, PDA, tablets and notes. Use of memory chip is preferred over other traditional storage devices due to their amazingly advanced features like compact size, portability, large storage and much more. It provides you the facility to keep and carry all your digital data like songs, images, audios, videos, etc. Ideally, memory chip is used more for saving image files in digital cameras camcorders and mobile phones. Photos stored in memory chip can be easily transferred from chip to other devices like PC, laptop or notebook with the help of a card/chip reader which comes with a USB port adapter. But sometimes data from a chip may get damaged, lost or corrupted due to any of the reasons like improper handling, abrupt removal, virus infection, etc.
Some of the prominent causes for loss of data from a memory chip:

Human errors: Deletion of files by mistakes from memory chip while using it in a digital device or when connected to the computer results in loss of data.
Inadvertent formatting: You may accidentally format your memory chip by clicking the Format card option on a digital camera while doing some other task.
File system corruption: Your memory chip data may become inaccessible as a result of the file system corruption or virus attack on it. However, you can employ this software to restore deleted photos from Panasonic Lumix after a file system corruption. To know more information, click here https://www.recoverdigitalphotos.com/panasonic-lumix.html.
Improper transfer operation: Interruptions during transfer of data from a memory chip to the computer due to a power surge or an abrupt removal of memory chip results in the loss of data from it.
Virus Attack: Virus infection logically corrupts the memory chip resulting in formatting errors which does not allow you to use a chip without formatting it.
Losing your data in any of such situations can disappoint you. As it is much easy to lose your precious and valuable data from a memory chip so it is always better to take backup of it on some other storage media. Data loss from memory chip can sometimes lead to a difficult situation. When the lost data is of great value then it becomes necessary to perform chip recovery to get back lost data. Before recovering data by using recovery software first make sure that the lost files are not overwritten. The lost files may get overwritten if you do not stop using your memory chip immediately after data loss.
In order to recover data lost from a memory chip, you need to use Photo Recovery Software. This software is capable of recovering deleted, lost or erased media files i.e. photos, videos, audios etc from your memory chip within a few minutes. It guarantees perfect recovery of data from different types of memory chip such as SDHC, SDXC & SDSC. You can also recover photos and other files like text, documents, songs, videos, graphics, etc. from different storage devices like an external hard disk, USB drives, FireWire drives, etc. This software not only allows us to recover JPEG files from a Sony Cyber-Shot Camera but also additional file format like TIFF, PNG, TIF, BMP, RAW, GIF etc. after any kind of data loss. You can download the demo version of this software to recover lost or deleted files from memory chip in a few simple steps.
Steps to recover digital photos from memory chip:
Step 1: Download and install the recovery the software and connect the memory chip with the computer. Open the main page and select "Recover Photos" option as shown in the Figure. On the next screen select "Recover Deleted Photos" or "Recover Lost Photos" option.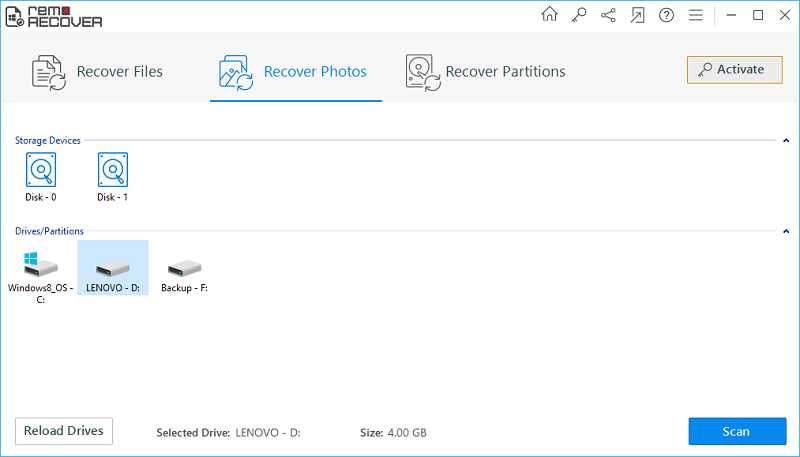 Step 2: Then select the chip drive from which you want to perform a chip recovery and click on "Next".
Step 3: Once the recovery process is over, you can view the files recovered from your memory chip.